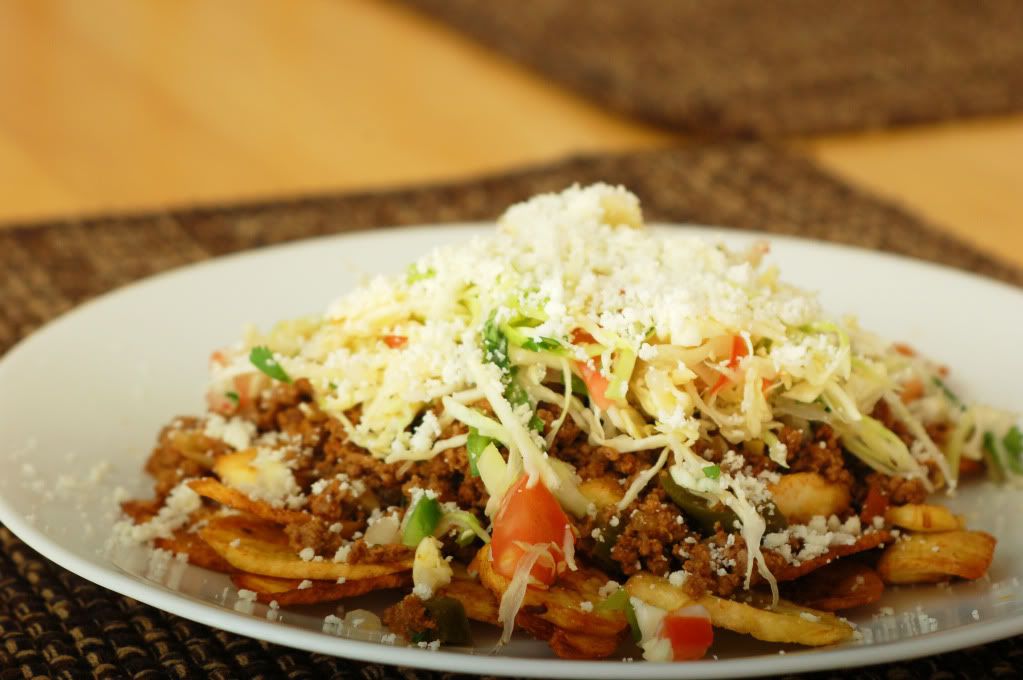 Most of you know that although I'd like to spend my time doing more things like cooking and taking pictures, the bulk of my life is spent as a school teacher, a wife, and a mom. This one is for my fellow school teacher who has been begging for a new dinner idea. I'll tell you right now, Deb, this isn't your typical mac and cheese or American casserole. But I think you know me well enough by now that you're not expecting something "normal" from me.
This is a dish that is similar to other Honduran dishes we like in our home. I'm not an expert at it, but I can tell you what my husband and I did to make this dish. And you really don't have to stick to the proportions. Judge by how many you want to feed and add or take away ingredients accordingly. I made this dish for four.
Ingredients:
2-3 VERY GREEN bananas
1 lb ground beef
1/2 block/round of
queso seco (
Mexican dry cheese - I buy
Queso Cotija
at my local grocer)
1/2 head cabbage, finely shredded
3 roma tomatoes
1/2 green pepper
2 cloves garlic
10 sprigs of cilantro
1 lime
salt
pepper
cumin
achiote
Worcestershire sauce
1) Shred/crumble 1/2 round of
queso seco,
Set aside.
2) Finely shred 1/2 head of green cabbage. Add the following to the cabbage: tomatoes, diced small; 1/4 green pepper, diced small; cilantro, chopped; juice from 1 lime. Mix and salt to taste.
3) Prepare meat: I like to marinate my meat the night before, but it is not necessary. To a pound or two of ground beef, I dice and add 1/2 onion, 3 cloves garlic, 1/4 green pepper, 1 roma tomato, plenty of cumin, salt, and ground black pepper as well as achiote powder (for color - this ingredient is not necessary for flavor, but a true Honduran dish always has color!) I also like to add a bit of Worcestershire sauce. Brown the meat and break it up while cooking so as to have a very fine ground meat mixture. You also want this mixture to be a bit on the juicy side. Don't tell my husband because he would say it's a sin, but I add a bit of water and don't let it cook completely off. Cover and set aside. Keep warm for serving.
4) Finely slice green bananas and fry in hot vegetable oil until golden brown. Add a dash of salt to the bananas as you pull them from the oil.
To serve, layer a handful of fried green bananas on a plate. Top with meat, salad, and cheese. Enjoy with a fork and a yummy blended fruit drink.