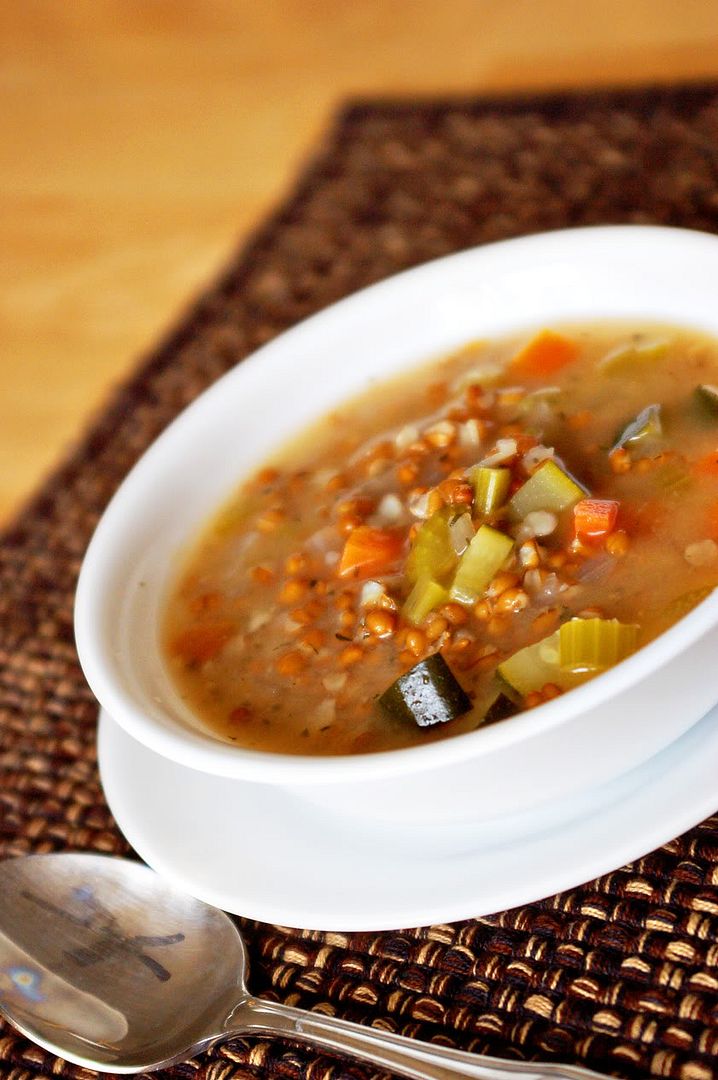 We had this soup at a church activity a few weeks ago and my girls devoured it. I loved that it was packed with vegetables and was healthy and have made variations of it a couple times since then. Here's some general instructions to the best of my memory:
Cook
1-2 cups of wheat grains in a crockpot with plenty of water overnight.

In a large soup pot saute:
1/2 onion, diced
2 cloves garlic, minced
1-2 roma tomatoes, diced
Add:
3 stalks celery, chopped
4 carrots, chopped
Turn up heat and add:
Chicken Broth. Bring to a boil.
Add cooked wheat.
Just before all other vegetables are finished,
add veggies that cook quickly and that you don't want to turn soggy:
I added 1-2 small zucchini, chopped.
a handful of chopped cilantro
On the second go-around, I didn't have zucchini, so I added broccoli instead. And it was delicious. I was also hesitant to add cilantro as I was taking some to a friend who I wasn't sure liked cilantro, so I substituted with parsley.
This soup can be so versatile. Add any veggie you prefer and it's delicious. And hearty. And healthy. And it's so light, I wouldn't even mind having it in the summer with a salad.
One last suggestion. The first time I made the wheat, I had plenty, so I put half in the soup and froze half of it. The next time I wanted to make it, I just threw in the frozen wheat and it thawed very quickly in the boiling water. It took a whole long step right out of the process.