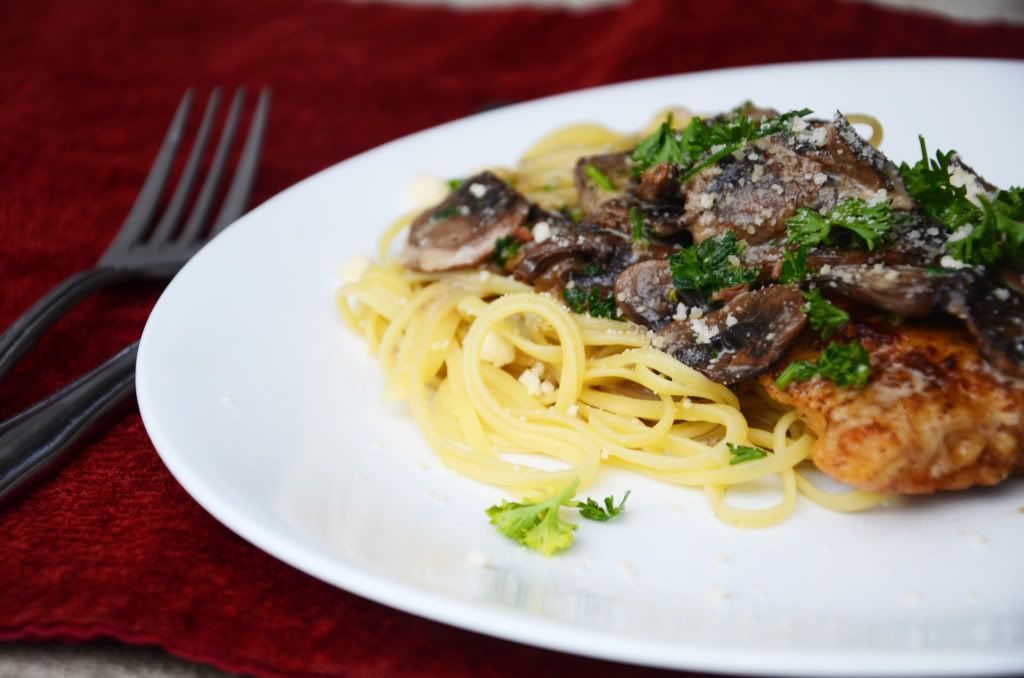 I had some mushrooms and cream that I needed to use up and so I went hunting online for something with those ingredients and came across a few pasta/chicken recipes that I thought sounded yummy. So I threw this together and it ended up being a hit. Let's just say that if my husband liked it, it's definitely worth posting.
Ingredients:
1 pound Linguine
6 whole Boneless, Skinless Chicken Breasts
Salt and Pepper, to taste
Flour
2 Tbsp Olive Oil
4 Tbsp Butter
1 package mushrooms, sliced
1 cup Chicken Broth
1/2 cup Heavy Cream (or Half-and-Half)
Chopped Fresh Parsley
Parmesan Cheese (for topping)
Instructions:
Cook pasta according to package instructions.
Flatten chicken breasts and salt and pepper both sides. Dredge in flour. Heat butter and olive oil in a large skillet over medium heat. Fry chicken breasts until golden brown. Remove to a plate and set aside.
Add mushrooms to the pan and stir. Immediately pour in chicken broth and deglase the pan by stirring. Cook viorously for 1 minute until sauce reduces.
Pour in cream and stir. Turn off heat and add salt and pepper to taste.
Make a bed of pasta on a plate and top with a piece of chicken and plenty of sauce. Sprinkle with lots of parmesan and garnish with more parsley.