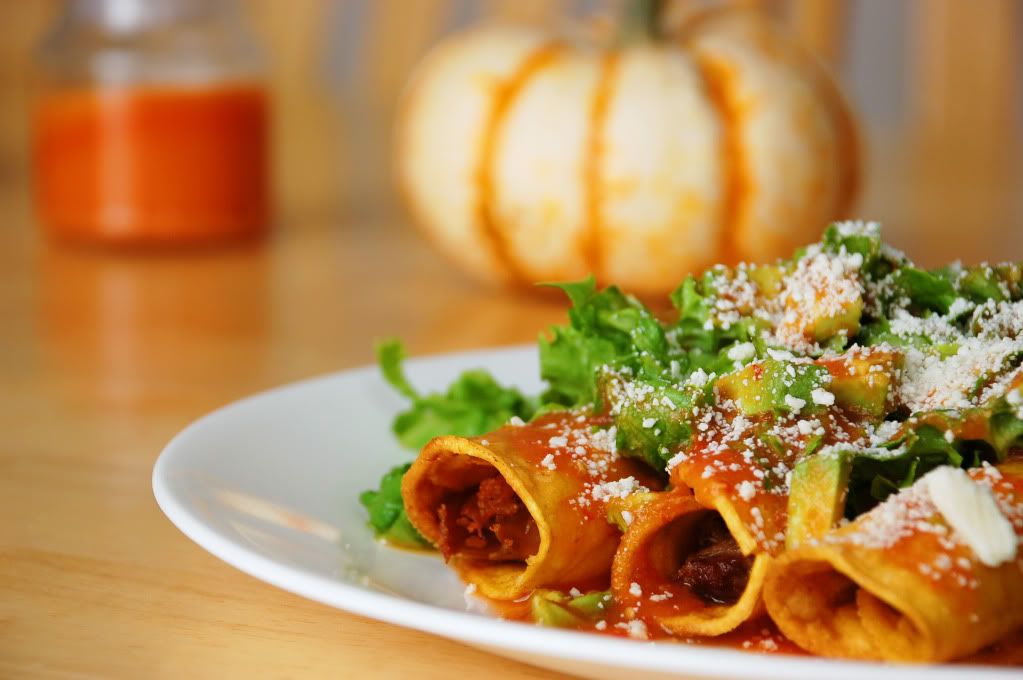 Our turkey leftovers are now gone and I'm left with a watering mouth for these delicious turkey taquitos that we made. I look forward to these every year almost as much as I look forward to the whole traditional Thanksgiving meal.
So, if you still have some turkey leftover, I highly recommend giving this a try or keeping this recipe in your Thanksgiving idea list for next year.
Here's what you do:
1. Shred or slice leftover turkey into small pieces.
2. Heat corn tortillas in the microwave in a plastic bag for approximately one minute. (I like to sprinkle a bit of water in so they are nice and moist and don't fall apart.) You will know they are ready when you can roll them and they don't break.
3. Place turkey on one side of a tortilla on a plate. Roll it up and place a toothpick in the middle to keep it rolled together.
4. Heat a pan of oil to medium heat.
5. Place taquitos in oil and fry until golden brown and crisp on both sides.
6. Finely shred green-leaf lettuce.
7. Top taquitos with a bed of lettuce and
my favorite spicy tomato-avocado salsa
and a generous sprinkly of "queso seco" - basically a mexican dry cheese - I use "queso cotijo" from my local grocer. Any Parmesan-type cheese will work.
Now, try not to eat the whole plate. And refrain from cooking an entire other turkey just to make taquitos. These things aren't light on the calories. :)