I'm playing recipe catch up. I have pictures from 2007 I haven't posted. Did I just admit that? Yes! We'll see if I get to them. I'm really enjoying my first summer vacation as a full-time mom so who knows how much I'll post, but for now, here's one that's worth it.
I found this recipe from my favorite cooking blog:
smittenkitchen.com
. And let me tell you, Deb's photos are as delicious as her food!
Ingredients:
1 cup whole wheat flour
1 cup all-purpose flour
1 tsp baking powder
1 tsp baking soda
1/4 tsp salt
1 tbsp cinnamon
1/2 cup unsalted butter, at room temperature
1/2 cup granulated sugar
1/2 cup *dark brown sugar, packed
1 large egg, lightly beaten
1 cup buttermilk or yogurt
2 large apples, peeled, cored, and coarsely chopped
Preheat oven to 450 F. Grease and flour an 18 cup muffin tin and set aside.
Mix together the flours, baking powder, baking soda, salt, and cinnamon, and set aside. In a separate bowl, cream the butter and add the granulated sugar and 1/4 cup of the brown sugar. Beat until fluffy. Add the egg and mix well; stop once to scrape the sides and bottom of the bowl. Mix in the buttermilk gently. (If you over-mix, the buttermilk will cause the mixture to curdle.) Stir in the dry ingredients and fold in the apple chunks.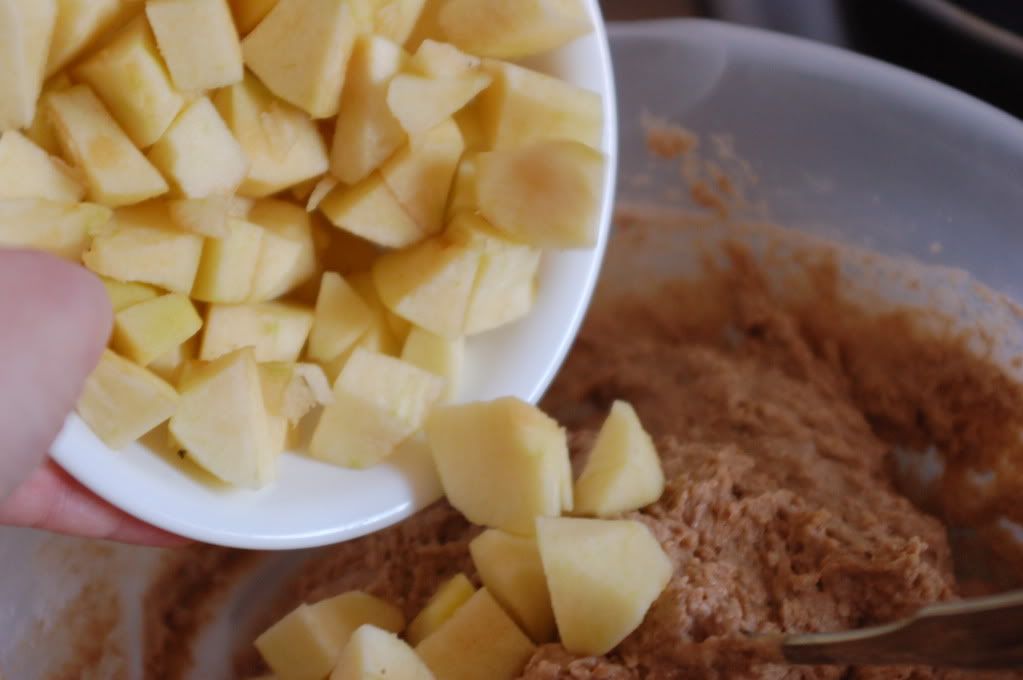 Divide the batter evently among the prepared muffin cups, sprinkling the remaining 1/4 cup brown sugar on top. Bake for 10 minutes, turn the heat down to 400F and bake for an additional 5 to 10 minutes, or until a toothpick inserted into the center of a muffin comes out clean. Cool the muffins for 5 minutes in the tin, then turn them out onto a wire rack to cool completely.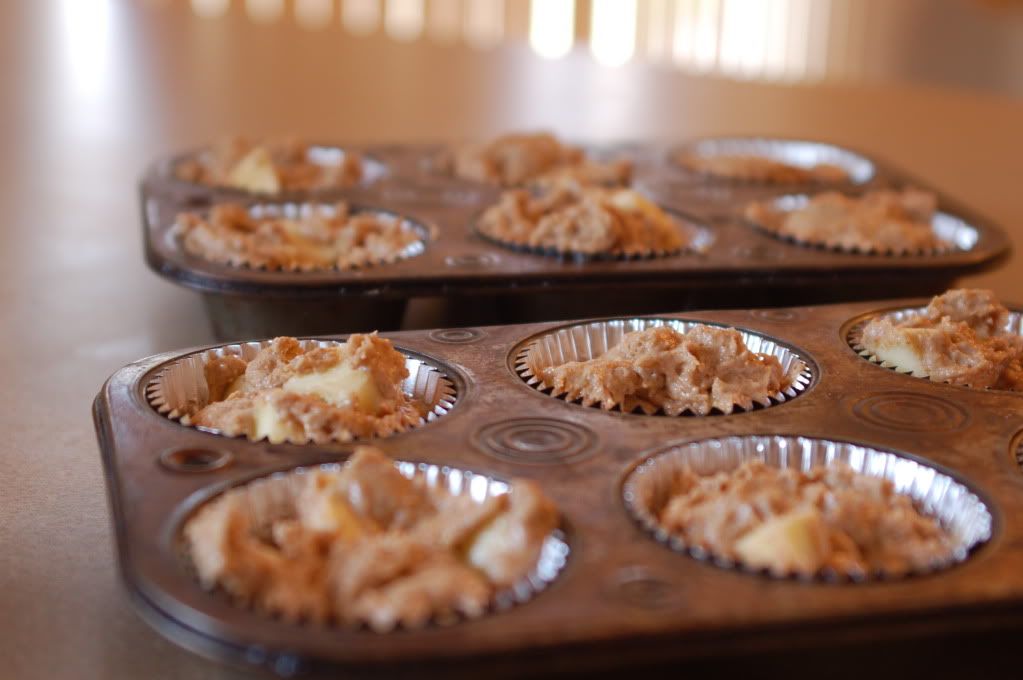 *I personally didn't like the strong flavor of the dark brown sugar and would use regular brown sugar in the future - or maybe I wouldn't top them with sugar at all. I like muffin toppers, but the dark brown sugar didn't do it for me. Perhaps a mixture of sugar, butter, flour and nuts next time.
Also, I would store these in the refrigerator as the moisture in the apples made them go bad quickly. All in all they were quite delicious and filling!